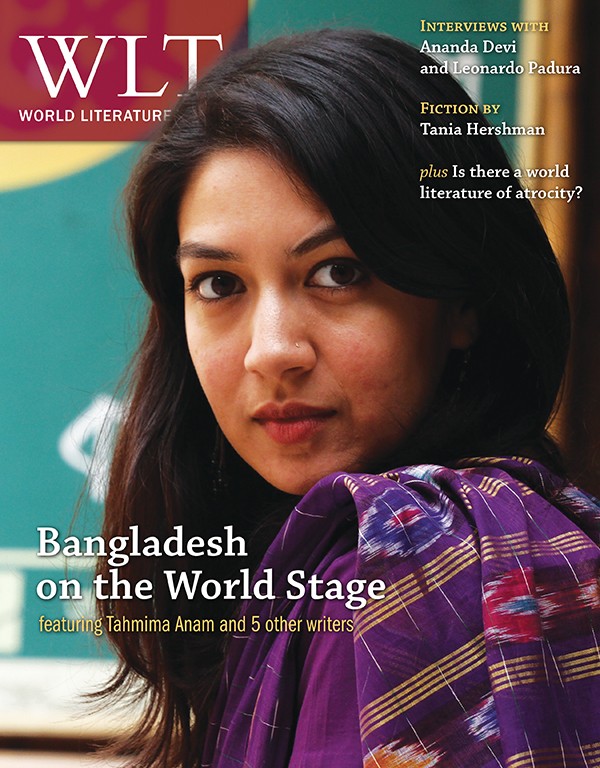 The University of Oklahoma's bimonthly magazine of international literature and culture, opens a window to the world in every issue.
Spanning the globe, WLT features lively essays, original poetry and fiction, coverage of transnational issues and trends, author profiles and interviews, book reviews, travel writing, and coverage of the other arts, culture, and politics as they intersect with literature.
Now in its ninth decade of continuous publication, WLT has been recognized by the Nobel Prize committee as one of the "best edited and most informative literary publications" in the world.
Colorful! This is a colorful magazine, but it doesn't seem that way! Once you click on individual articles and scroll down, you'll find a colorful layout to enjoy.
Categories of writing. This magazine is full of short stories and poetry, but it's also full of non-fiction -- reviews of fiction, interviews, and essays about writers, genres, local literary scenes, architecture. Notice what category of writing you are reading by reading headings and asking yourself, "Is this an interview?" or "Is this an essay introducing a poem?" or simply, "What is this?!"

For Fun. If you wanted to find all the articles in World Literature Today that are related to "Mexico" or "cats" or "love" or whatever, type what you are looking for in the search box in the upper right hand corner of JSTOR's World Literature Today page.
More Fun. Check out World Literature Today's free website! It doesn't allow access to all of the articles, but it has audio, video, and other bonus material.
Welcome ENGL 225 Students!
This guide explains how to use World Literature Today, a magazine devoted to world literature.
1. A new issue comes out every two months or so. Browse issues of World Literature Today by clicking on an issue, and exploring it.
To read an article, click on "Article link":