Here are selected resources for researching topics in African and African American history:
Check out these films, available through MARINet:
Welcome to
College of Marin Library's Umoja page!
Our library has many resources related to African and African American history and culture. Here are some good starting places. Please check back as this guide grows. Visit the college's Umoja webpage.

Need help with your research topic? Drop by the library or contact us online or by phone.

Encyclopedia of African American Culture and History
Call Number: Online
Publication Date: 2006
A five-volume set and supplement covering all aspects of the African-American experience from 1619 to the present day. Using biographies, historical essays, and thematic pieces, many written by foremost scholars, it addresses a wide array of subjects in over 2,300 articles to define in one source the cultural roots, participation in American life, and current condition of the African-American community.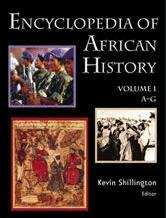 Encyclopedia of African History
Call Number: Online
Publication Date: 2005
Covering the entire continent from Morocco, Libya, and Egypt in the north to the Cape of Good Hope in the south, and the surrounding islands from Cape Verde in the west to Madagascar, Mauritius, and Seychelles in the east, the eEncyclopedia is an A-Z reference resource on the history of the entire African continent.
Get Help from the Library
The Kentfield Library will close at 5 pm on Wednesday, November 22.
Both Libraries will be closed November 23–26, 2017.
Kentfield Campus
Learning Resource Center, 2nd Floor
835 College Avenue
Kentfield, CA 94904
(415) 485 - 9656
2017 Fall Semester Hours:
Monday - Thursday: 8:00 AM - 8:00 PM
Friday: 8:00 AM - 2:00 PM

Indian Valley Campus
Main Building, Room 124
1800 Ignacio Boulevard
Novato, CA 94949
(415) 883 - 2211, ext 8505
2017 Fall Semester Hours
:
Monday, Tuesday: 10:00 AM - 6:00 PM
Wednesday, Thursday: 8:00 AM - 4:00 PM
Friday - Sunday: Closed
David Patterson
Contact Info
(415) 457-8811, extension 7869
david.patterson@marin.edu

Search for books online using the catalog:
The Library has many textbooks and course materials available at the front desk. Search by course or by instructor:
You can also browse for books by subject in the College of Marin Library using the Library of Congress Classification System:
DT
African History
E 184 - E185
African American History
E185.93
Calfornian African American History
ML 3556
Music and Musicians: African American
PS 153 N5
History of African American Literature
N 6538 .N5
African American Art